The Matrix Thinking Page
---
---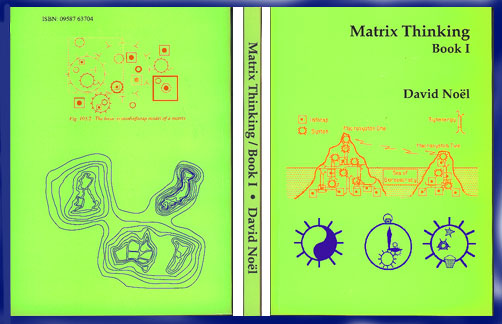 Matrix Thinking, Book I

Published by BFC Press, 1997. 200 pages, paperback.

"Should sell a million copies" -- Barrie Oldfield.
"The book to take the world into the Third Millenium".

MATRIX THINKING describes a new approach to understanding how real-life situations operate in human society at every level (from individual to international) and how to improve these situations at the appropriate action points.
The links below take you to web (html) representations of some extracts from the book. As of 2004, there are also now available FREE DOWNLOADS of the WHOLE BOOK in sections as PDFs (viewed with Acrobat Reader).
HTML Samples
What is Matrix Thinking?
The Substance of Society - Infocap
The House on the Polish Border - Systons
I've Got You Under my Skin - Syston Boundaries and SIOS
PDF Free Downloads
Cover.
Pages 1-21.
Pages 22-41.
Pages 42-61.
Pages 62-81.
Pages 82-101.
Pages 102-121.
Pages 122-141.
Pages 142-161.
Pages 162-181.
Pages 182-200.
The whole book (about 0.8 Mb).
---
There are still some copies of the print version (1997) available. You can Order Online or download a Printed Order Form for faxing or mailing.

For the structure of the book:
Contents and Foreword
NOTE: Book II is not yet published, although its structure is given in 'Contents and Foreword'.

---
Email us about this page or its contents
---
Back to the David Noel Books Page
---
Last update 2014 Nov 30