The Nuteeriat Page
---
---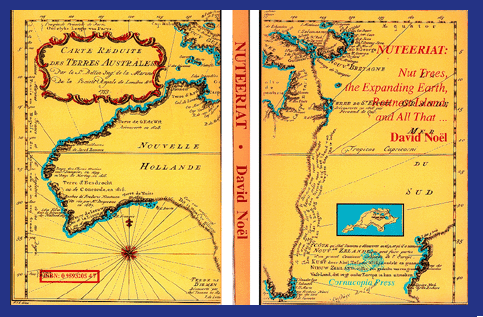 ---
Nuteeriat: Nut Trees, the Expanding Earth, Rottnest Island, and All That..


Published by Cornucopia Press, 1989. 200 pages, paperback.
"Mindstretching" -- Arthur C. Clarke

The Truth (?) about Continental Drift, Plate Tectonics, the Expanding Earth, and Subduction, and how these truths have been revealed by a study of the Distributions of Nut Trees and other Plants.
The links below take you to web (html) representations of some extracts from the book. As of 2004, there are also now available FREE DOWNLOADS of the WHOLE BOOK in sections as PDFs (viewed with Acrobat Reader).
HTML Samples
How the World Fell Apart
The Origin of Volcanoes
The Origins of Fossil Fuels
Geoprospecting and Mineral Riches
Man and the Environment
PDF Free Downloads
Cover.
Pages 1-21.
Pages 22-41.
Pages 42-61.
Pages 62-81.
Pages 82-101.
Pages 102-121.
Pages 122-141.
Pages 142-161.
Pages 162-181.
Pages 182-200.
The whole book (about 1.1 Mb).
---
There are still some copies of the print version (1989) available. You can Order Online or download a Printed Order Form for faxing or mailing.

For the structure of the book:
Contents and Foreword

---
Email us about this page or its contents
---
Back to the David Noel Books Page
---
Last update 2014 Oct 26